Introduction
Husayn Service Day (Saturday, July 22th, 2023) is a national day of service in honor of the legacy of Imam Husayn (a). For the 6th year in a row, we are coming together to give back to our communities. This national day of service honors the teachings of Imam Husayn through acts of service and giving back. Whether it is gardening at your local mosque or church, helping the elderly, donating blood, or serving meals at a soup kitchen, we invite you to go out and serve your community. Join us in extending our hands to others. Like Imam Husayn, let us give from ourselves and be a spark of compassion to those around us.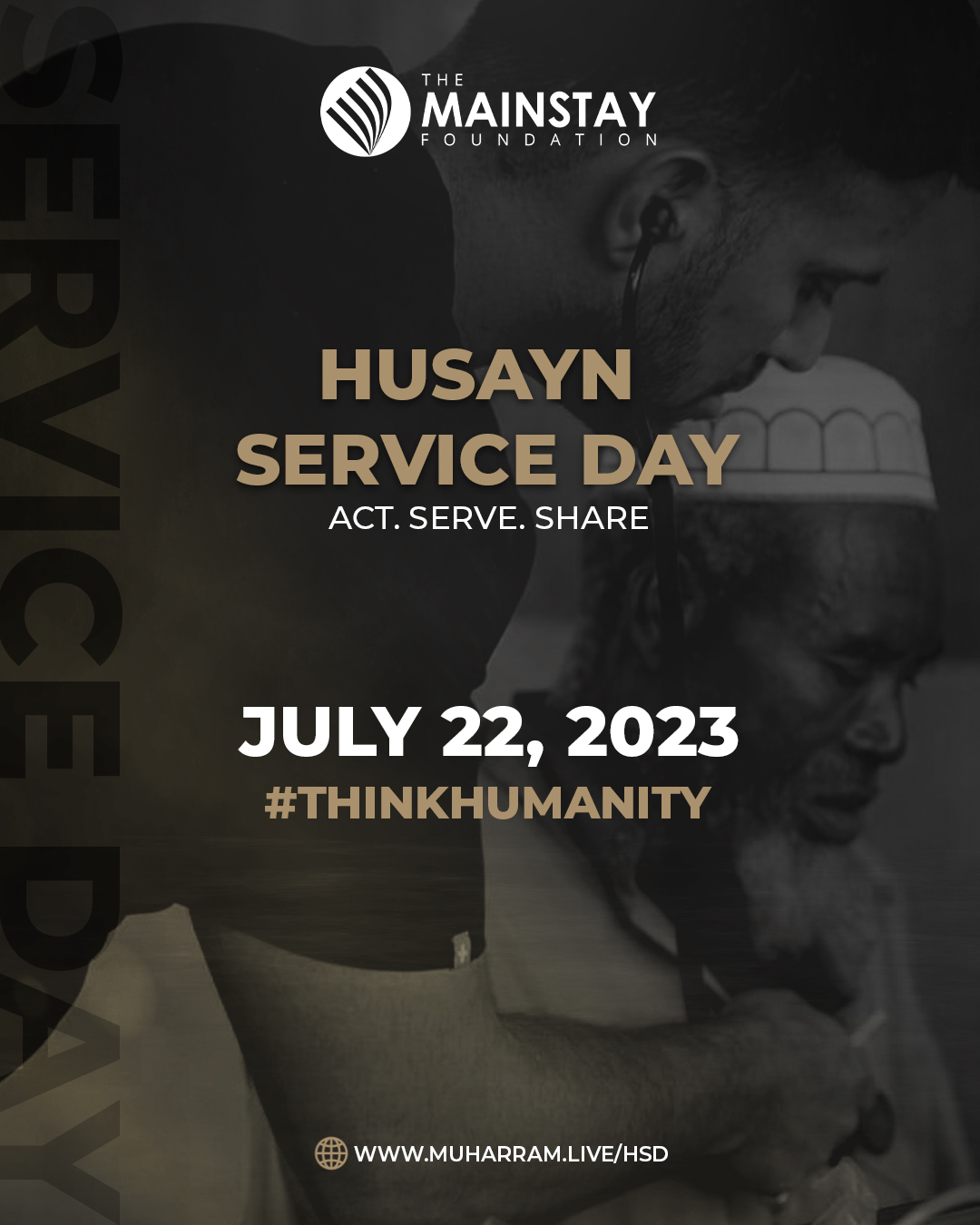 Act today and join us in this national campaign. Share some photos on social media using the following hashtags:
– #ThinkHumanity
– #HusaynServiceDay2023
– #HSD2023
– #Muharram2023
Here are some ideas for you to take part in:
Volunteer at a local humanitarian organization
Reach out to your neighboring mosque or church and lend a helping hand
Call your grandparents and family members.
Add encouraging messages to your sidewalks using chalk.
Call a friend from school that you don't talk to often to say "Salam!"
Write a note to your parents to let them know how much you love them.
Make your family breakfast, lunch, or dinner.
Deliver/drop off groceries to an elderly neighbor.
Clean or cut an elderly person's lawn.
Leave a note and a small gift for delivery drivers.
Send a motivational text to a friend who is struggling.
Help with chores without being asked and without complaining.
Pick weeds from your family's flower beds and gardens.
Tell each of your family members one thing you love about them.
Place large signs with kind messages in your windows for pedestrians to see.
Event Information
Date:  July 22, 2023
Venues:

Forgotten Harvest 09:00am – 12:00pm (30 volunteers)

15000 W. Eight Mile Rd. Oak Park, MI 48237

Mainstay's Innovation & Leadership Center

15170 N. Commerce Dr. Dearborn, MI 48120
If you can kindly bring the following: Gloves, Shovels, Trimmers, Lawn Bags
For More Information
If you have any questions regarding the event, please contact Hajjah Sandy Makled at smakled@mainstay.us.
Register Today!
Join Over
6,875 Individuals
Within Our Network