Introduction
Building on the success of the Husayni Expressions Competition over the last five years, The Mainstay Foundation is proud to continue this effort and host a national competition that will bring out amazing talent and creativity all in the service of Imam Husayn (as). In its enhanced format, the Husayni Expressions Competition aims to provide an effective platform to encourage and inspire the youth to utilize their creative talents to serve The Ahlulbayt (as). Be it a poem, portrait, latmiya, video presentation, or any other form of creativity, it is through our expressions that we propagate the undying message of The Ahlulbayt (as) and empower communities to proudly follow and practice their message.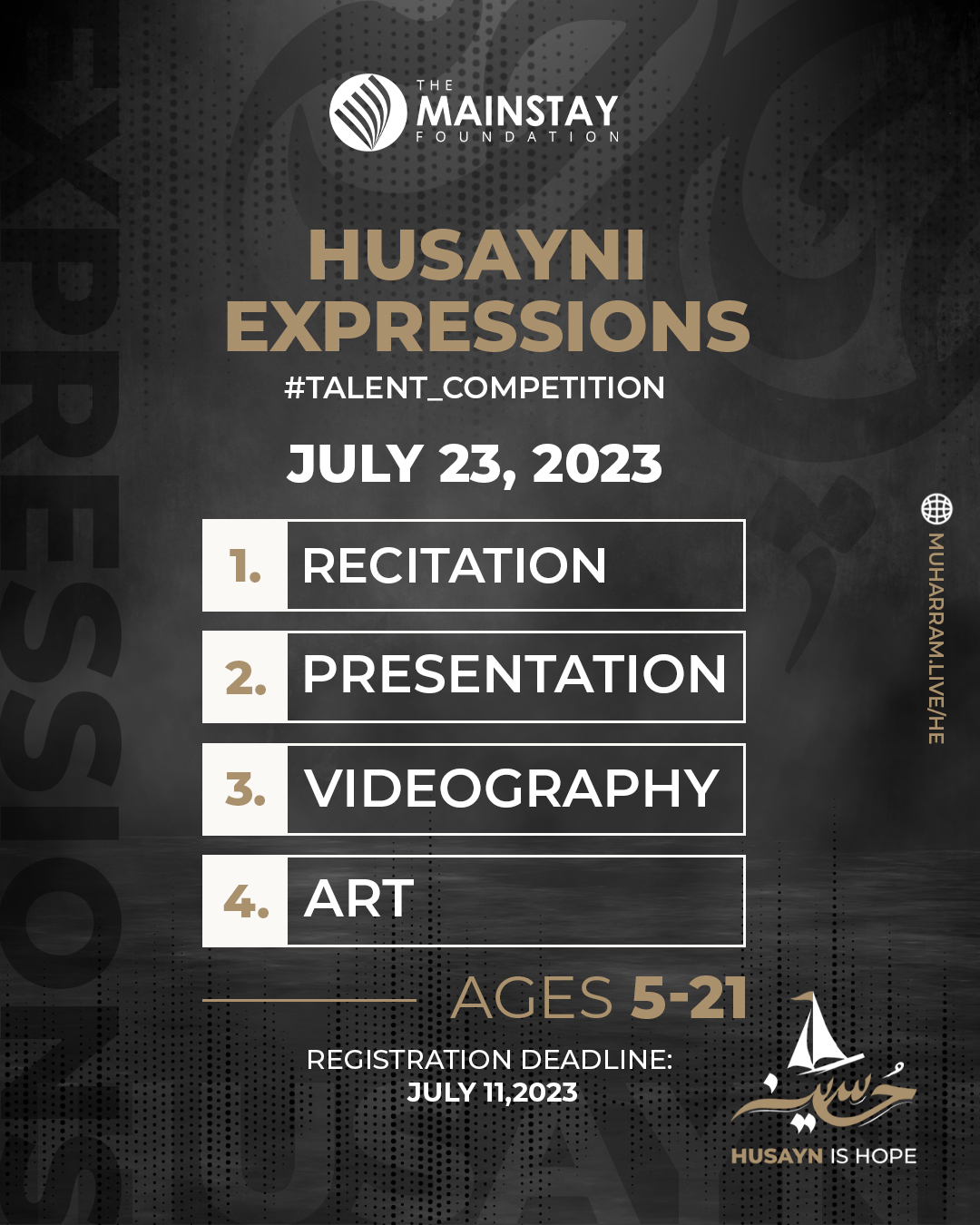 Contest Guidelines
The expression must be related to Imam Husayn (a) or the events of Ashura, with the exception of the Holy Quran recitation.
There are four categories as listed below:

Presentations – Includes recitations (i.e., poetry, majalis, latmiya, ziyirat), and speeches.
Quran Recitation – Includes recitation of the Holy Quran.
Art – Includes paintings, drawings, crafts, papier-mâché, photography, etc.
Video/ Technology – Includes any sort of technology-based media. For example, video recordings, time lapses, etc.

To qualify for the contest, all contestants must attend the live event on Sunday July 23rd.
There must be a minimum of 3 contestants in each age group/category.
Judges may select one to two winners per age group.
Every contestant will have up to 3 minutes to showcase his or her expression.
A panel of qualified judges will evaluate and rank all expressions within each category.
All winners will be announced and awarded at the end of the event.
Up to $3,000 in prizes!
Contest Rules
Genders: Male and Female
Age Groups: 5-10 | 11-15 | 16-21
Contestants: Individual or groups of two
Registration: All interested contestants must register online at www.muharram.live/he no later than Sunday, July 16th, 2023, at 11:59pm.
Number of Contestants: Maximum of 8 contestants (or groups) in each category and age group. Registration will be based on first come first serve.
Event Information
Date:  July 23, 2023
Venue: Bint Jebail Cultural Center – 14201 Prospect St Bldg. 2, Dearborn, MI 48126
Attendance: Open to the public

All contestants must be pre-registered. No exceptions.

Light refreshments will be served
For More Information
If you have any questions regarding the event, please contact us at Sister Zaynab Turki at zturki@mainstay.us or call (313) 505-5677.
Register Today!
Join Over
6,875 Individuals
Within Our Network